Asian Art Publication Lab Coordinator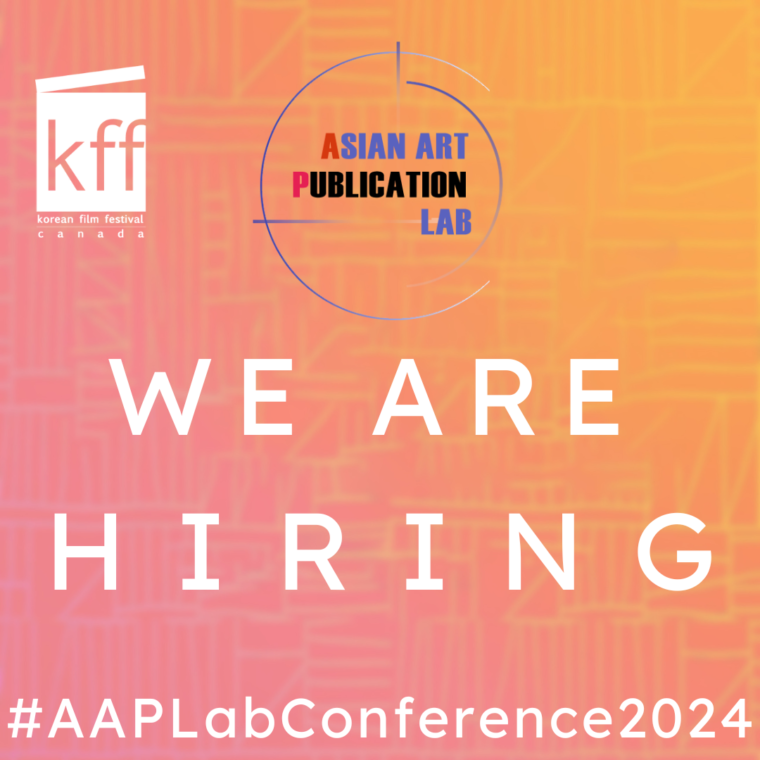 Employer: KOREAN FILM FESTIVAL CANADA (KFFC)
Website: https://koreanfilm.ca/
Workplace Address: 5333 Avenue Casgrain, Office #515
Job Title: Asian Art Publication Lab (AAPlab) Coordinator and Social Media Manager
Number of Positions:1
Contact Person: Mi-Jeong Lee [email protected]

Company Description: AAPlab, a subgroup of the Korean Film Festival Canada (KFFC), is a Montreal-based research and creation laboratory at the intersection of arts and technology. Our goal is to bridge the gap between the East and West by decolonizing Asian arts through inclusive and critical dialogue. We publish and translate textbooks, essays, and lived stories based on art practices and experiments, and provide a platform for innovative Pan-Asian art projects.

The Korean Film Festival Canada (KFFC) is an artist-run research and creation organization with a strong connection to local artists and communities, transcending borders. Over the past 25 years, KFFC has endeavored to amplify the voices of Asian heritage, Asian diaspora, and emerging artists from Canada and South Korea. Arts East-West is a non-profit organization that supports cultural diversity, Canadian artists of Asian origin, and their communities by connecting the East and the West through film festivals, seminars, workshops, artist discussions, and publications. KFFC, "Where East Meets West," presents Korean films, media, visual arts, and cultural activities in Montreal, encouraging intercultural dialogue through storytelling. Since the 2000s, we have been fostering cultural diversity through artistic and cultural exchanges between Korea and Canada. KFFC organizes film screenings, seminars, workshops, artist talks, and publishes academic papers. We aim to support the diversity of cultural voices and lived experiences through Korean cinema. Our goal is to assist emerging and professional Korean-Canadian artists and their allies to encourage the next generation of storytellers.Our festival's modus operandi combines the unique identities and authentic arts of Canada and Korea. We strive to respect and engage the English-speaking community, which is considered a minority within Quebec's francophone milieu. Moreover, while respecting the Korean heritage and the bridge between Korean and Canadian artists, we are committed to keeping our film festival trilingual.

Job Description:The Asian Art Publication Lab is seeking a Coordinator responsible for managing and coordinating the daily operations of the 10th edition of the festival by assisting our executive director.

Main Tasks:Manage projects related to the third international festival and coordinate tasks with our staff.Write and manage various grant and funding applications in English or French.Coordinate the content and update the AAPlab website with multiple staff members.Provide project reports and assess problematic situations, communicating them to the organization's director.Ensure that all deadlines and work plans are met or modified if necessary after consulting the organization's director.

Requirements:Strong writing skills in English, preferably native English.Strong organizational and coordination skills.Strong interpersonal and oral communication skills in English and French.At least one year of experience in a non-profit cultural or artistic organization or a similar institution.Experience in arts administration and/or coordination (preferable).Experience in proposal writing, event planning, grants, contracts, and reporting (preferable).Basic knowledge of East Asian culture, media, and visual arts (preferable).Familiarity with the arts and culture sector in Quebec (preferable).Knowledge of MS Office and a basic website platform (Strapi backend) will be considered an asset.Knowledge of Korean culture and language (spoken and/or written) will be considered an asset.
https://koreanfilm.ca/about/mission
Languages:
French – High proficiency in spoken and written French.
English – High proficiency in spoken and written English.
Experience:
7 to 11 months
Skills:
Ability to coordinate and delegate
Leadership
Versatility
Number of Hours:
37 hours
Employment Type:
Full-time
Minimum Salary:
$18.00
Maximum Salary:
$20.00 ( to be negotiated)
Offer Type:
Regular
Schedule:
Day (M-F/L-V)
Contract:
6 months
Coordinatrice du Laboratoire de Publication d'Art Asiatique
Employeur : Arts East-West / KOREAN FILM FESTIVAL CANADA (KFFC)
https://koreanfilm.ca/about/mission
Adresse du lieu de travail : 5333 Avenue Casgrain, Bureau #515
Titre du poste : Coordonnateur(trice) de l'Asian Art Publication Lab (AAPlab) et Gestionnaire des médias sociaux
Nombre de postes : 1
Personne à contacter : Mi-Jeong Lee [email protected]
Description de l'entreprise :
AAPlab, un sous-groupe des Arts Est-Ouest, est un laboratoire de recherche et de création basé à Montréal, à l'intersection des arts et de la technologie. Notre objectif est de combler le fossé entre l'Est et l'Ouest en décolonisant les arts asiatiques par le biais d'un dialogue inclusif et critique. Nous publions et traduisons des manuels, des essais et des histoires vécues basées sur des pratiques et des expériences artistiques. Nous organisons des séminaires, des ateliers, des discussions d'artistes et des conférences, et offrons un espace respectueux à l'environnement pour les artistes asiatiques et à leurs pairs, en tant que plateforme pour des projets artistiques asiatiques et de la diaspora asiatique innovants.
Arts East-West est une organisation à but non lucratif qui soutient la diversité culturelle, les artistes canadiens d'origine asiatique et leurs communautés, en reliant l'Est et l'Ouest par le biais de festivals de films, de séminaires, d'ateliers, de discussions d'artistes et de publications au cours des 27 dernières années. Le Korean Film Festival Canada (KFFC) est un événement annuel qui s'efforce d'amplifier les voix de l'héritage asiatique, de la diaspora asiatique et des artistes émergents du Canada, en mettant l'accent sur la Corée du Sud, en tant que liaison entre l'Asie. Le KFFC présente des films, des médias, des arts visuels et des activités culturelles de Montréal à travers le Canada. Nous visons à soutenir la diversité des voix culturelles et des expériences vécues à travers le cinéma coréen. Notre objectif est d'aider les artistes coréen(ne)s-canadien(ne)s émergent(e)s et professionnel(le)s et leurs alliés afin d'encourager la prochaine génération de conteurs et conteuses.
Description du poste :
L'Asian Art Publication Lab (AAPlab) est à la recherche d'un(e) coordinateur(trice) chargé(e) de gérer et de coordonner les opérations quotidiennes de la 10e édition du festival en assistant notre directrice exécutive. Tâches principales :
Gérer les projets liés au troisième festival international et coordonner les tâches avec notre personnel.
Rédiger et gérer diverses demandes de subvention et de financement en anglais ou en français.
Coordonner le contenu et la mise à jour du site web d'AAPlab avec les membres du personnel.
Fournir des rapports sur les projets et évaluer les situations problématiques, en les communiquant à la directrice de l'organisation.
Veiller à ce que toutes les échéances et tous les plans de travail soient respectés ou modifiés si nécessaire après avoir consultaté la directrice de l'organisation. Exigences :
Solides compétences de rédaction en anglais, de préférence de langue maternelle anglaise.
Solides compétences en organisation et en coordination.
Solides compétences en communication interpersonnelle et orale en anglais et en français.
Au moins une année d'expérience dans une organisation culturelle ou artistique à but non lucratif ou une institution similaire.
Expérience dans l'administration et/ou dans la coordination des arts (souhaitée).
Expérience dans la rédaction de propositions, de la planification d'événements, de subventions, de contrats et dans la rédaction de rapports (souhaitée).
Connaissance de base de la culture, des médias et des arts visuels de l'Asie de l'Est (souhaitée).
Connaissance du secteur des arts et de la culture au Québec (souhaitée).
La connaissance de MS Office et d'une plateforme web de base (Strapi backend) sera considérée comme un atout.
La connaissance de la culture et de la langue coréenne (parlée et/ou écrite) sera considérée comme un atout.
Admissibilité :
Les candidat(e)s doivent être admissibles et doivent répondre aux critères du programme de subventions salariales d'Emploi Québec: Les participant(e)s admissibles au programme de subvention salariale sont basé(e)s sur les réalités du marché du travail et constituent une évaluation des besoins d'une personne, tels qu'établis par le gouvernement du Québec, par exemple :
Les personnes qui éprouvent des difficultés à intégrer le marché du travail ;
Les personnes bénéficiant de l'assurance-emploi ;
Les personnes sans emploi et sans soutien public du revenu ;
Les personnes ayant besoin d'un service d'aide à l'emploi, même si vous avez un emploi ou si vous êtes aux études.
L'expérience de travail doit permettre à la personne de développer ou de maintenir des compétences pour faciliter son intégration sur le marché du travail. L'emploi proposé doit permettre à la personne d'accéder à un poste avec de bonnes chances de maintien au-delà de la durée de la subvention, sans l'aide de la mesure. Les personnes handicapées et les travailleurs saisonniers, à la fin de leur participation au programme, doivent être en mesure de conserver un emploi sans subvention.
Langues :
Français – Très bonne maîtrise du français parlé et écrit.
Anglais – Très bonne maîtrise de l'anglais parlé et écrit.
Expérience : 7 à 11 mois
Compétences : Capacité à coordonner et à déléguer, Leadership, Polyvalence
Nombre d'heures : 37 heures
Type d'emploi : Temps plein
Salaire minimum :
$18.00
Salaire maximum :
$20.00 ( À négocier)
Type d'offre :
Régulier
Horaire :
Jour (L-V)
Contrat de travail :
6 mois