What are the Public Choice Awards?
KFFC/Arts East-West launched its first-ever AEW Public's Choice Awards in 2023, giving attendees the opportunity to vote on films and media artworks screened during the festival. Our organization's donation elements of Soil, Wave, Cloud, and East-West inspired the award categories.
The 15 most popular feature films, short films, and media artworks were recognised for their artistic achievements during the Montreal portion of #KFFC10. 
The Awards
The KFFC created handmade Bojagis as a part of the awards. Revitalizing second-hand textiles through sustainable practice, this korean quilt art project was commissioned to create a special Korean momento to award to the winners of each category in the People's Choice Awards. The bojagi project was initiated by Beatrice Shilton and Mi-Jeong Lee.
Awardees also received a cash prize of $60 each, made possible through community donations in support of the 15 awardees. This cash prize demonstrates the public's recognition and appreciation, as the festival established our first-ever public awards purely in response to public demand and the community's kind donations of $900 CAD, which will be distributed equally to the 15 awardees as a symbolic prize. We are grateful for the donations of: Alice Jim, Livia Monnet, Yiou Wang, Jash Villadares, Walter Chi-Yan-Tom, Dominique Caouette, Deanna Wong and Mi-Jeong Lee.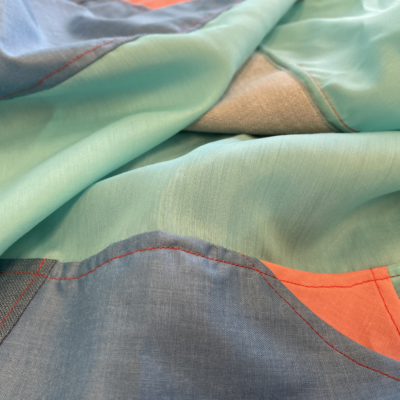 This year, for the first time, the Korean Film Festival Canada is proud to announce the first ever AEW People's Choice Awardees:
East-West 
Feature Film: THE MAN WHO PAINTS WATER DROPS (Directors Oan Kim and Brigitte Bouillot)
Short Film: SAME OLD (Director Lloyd Lee Choi)
WAVE 
Feature Film: SCARBOROUGH (Directors Shasha Nakhai and Rich Williamson)
Feature Film: NEXT SOHEE (Director July Jung) 
Short Film: WUHAN DRIVER (Director Tiger Ji)
Media Art: LEAVE ME, DON'T LEAVE ME  (Media Artist Jinyoung Kim)  
CLOUD 
Feature Film: HILL OF SECRETS (Director LEE Ji-eun)  
Short Film: PLUM TOWN (Director Kelly Yu)
Media Art: TRAVELING SOUL (Artist Yiou Wang)
SOIL 
Documentary Feature: A IS FOR AGUSTINA (Director Grace Simbulan)   
Short Film: MAGIC KINGDOM (Director Nelson Chak Hei Ng)
Media Art: HARVESTING THE LIGHT: THE GRAVES OF DIASPORA (Media Artist KIM Soyoung)
Honorary Mentions, most Popular work:
Feature Film: UN PRINTEMPS D'AILLEURS (Director Xiaodan He)
Documentary Feature: NAM JUNE PAIK: MOON IS THE OLDEST TV (Director Amanda Kim)
Short film: HERBARIUM (Director Iwona Pasinska)